Folkhälsomyndigheten - EPIET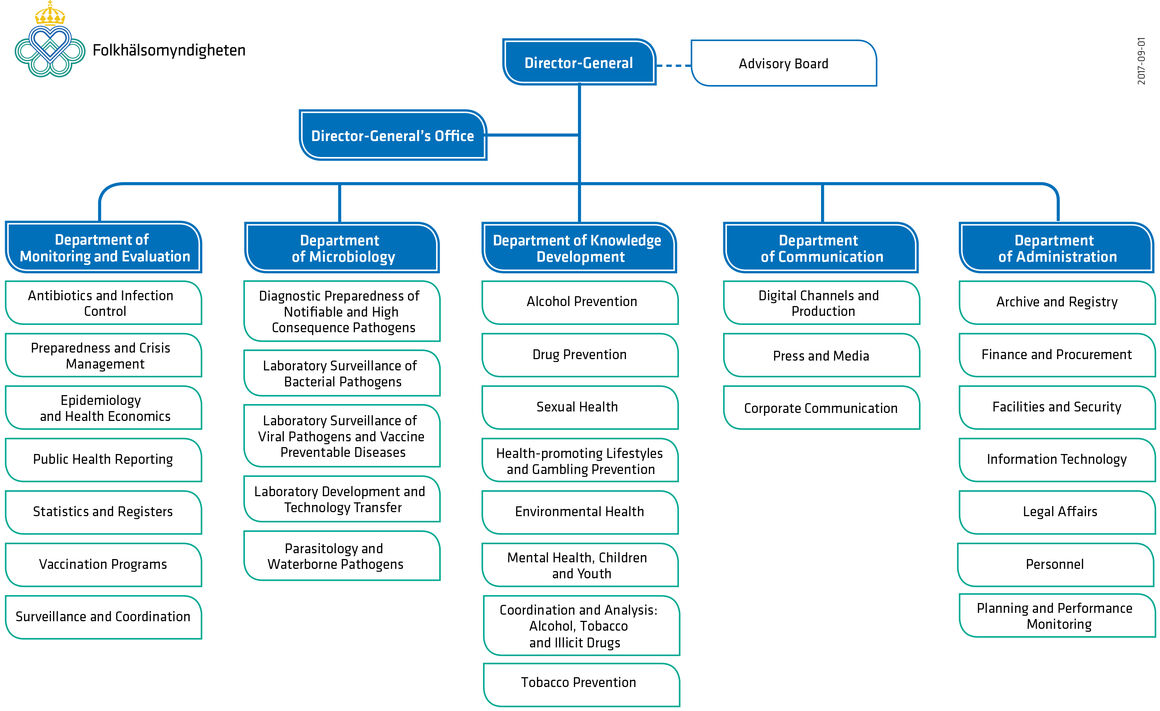 Available as a training site for Cohort 2018: YES
Contact person:
Anders Wallensten
Tel. + 46 10-205 23 64
Fax + 46 8 30 06 26
Description of the institute
The Public Health Agency of Sweden has a national responsibility for public health issues and works to ensure good public health. The agency also works to ensure that the population is protected against communicable diseases and other health threats.
Short facts:
The Public Health Agency of Sweden is a government agency accountable to the Government (Ministry of Health and Social Affairs).
Office locations are both in Solna (Stockholm) and in Östersund.
The number of employees is approximately 490.
The agency was formed on 1 January 2014 through a merger of The Swedish Institute for Communicable Disease Control and The Swedish National Institute of Public Health.
On 1 July 2015 the agency assumed the overall responsibility for the country's communicable disease control from The National Board of Health and Welfare.
The agency is the national focal point concerning international threats to public health.
The prioritized target groups for the agency are:
- the Swedish parliment and the Government
- Governmental agencies
- Regions and County Councils
- Municipalities
- County Administrative Boards
- Various organizations
The mission of The Public Health Agency of Sweden:
The Public Health Agency of Sweden has the task of disseminating scientifically based knowledge to promote health and prevent disease and injury. In collaboration with other stakeholders, we offer a knowledge base and methodological support, and follow up and evaluate different methods and efforts. Our mission from the government is also to monitor the health status of the population and the factors that affect this. The agency pays special attention to the groups of people with the greatest risk of suffering ill-health. Important partners are other governmental agencies, regions, county councils and municipalities.
Collection and analysis of data
An important basis for all public health work is collecting and analyzing data from different sources. This is why the Public Health Agency of Sweden monitors the health status continuously to ensure the early detection of changes in the population. The work includes receiving reports of communicable diseases and monitoring the occurrence of diseases in general. Within the scope of our mission, we also develop effective systems to monitor public health and the factors that affect the health of the population. Another important task is to monitor the impact of the vaccination programme.
Overall responsibility for the country's communicable disease control
The Public Health Agency of Sweden has the overall national responsibility for protecting the population against communicable diseases and coordinates communicable disease control on a national level. We develop regulations, recommendations and guidance for healthcare professionals to ensure effective communicable disease control. Some of the agency's responsibilities include vaccination programmes, emergency preparedness for health threats and national stockpiles of communicable disease medications. In addition, we coordinate national efforts concerning antibiotic resistance, infection control and healthcare-associated infections. Another field of work is our work to prevent HIV and STIs (sexually transmitted infections), where the agency is also responsible for national coordination.
Microbiological laboratory analysis, preparedness and outbreak support
The Public Health Agency of Sweden performs microbiological laboratory analysis including diagnostics and supports quality and method development at laboratories engaged in diagnostics of communicable disease pathogens. Our high containment laboratories have round-the-clock preparedness every day of the year to conduct microbiological diagnostics of high-consequence infectious agents that pose a particular danger to human health. One important task is to provide expert support to investigations of suspected or confirmed outbreaks of communicable diseases and to maintain laboratory preparedness needed for effective communicable disease control in the country. We also provide operational support to the regions, county councils and municipalities during outbreaks.
International cooperation
The Public Health Agency of Sweden is actively engaged in public health work within organisations including the EU and the WHO. We are also a national focal point for these organisations, in areas such as the protection and management of international health threats. Through cooperation with other stakeholders, the agency also contributes to the implementation of Sweden's policy for global development.
Health promotion in mental health, lifestyle and the physical environment
The Agency compiles, analyses and disseminates knowledge to support health promotion and preventive health work, in areas such as mental health, sexual health and lifestyle. We are also the national coordinating agency for suicide prevention. Our mission in environmental health is to detect, prevent and eliminate health hazards in the physical environment and to promote positive environmental impacts on human health.
Alcohol, tobacco and other drugs
The agency is responsible for coordinated monitoring within alcohol, narcotics, doping and tobacco and compiles, analyses and disseminates knowledge in order to prevent related illness. The agency also has corresponding responsibility for gambling. Our mission also includes overall supervision under the Alcohol and Tobacco Acts. In addition, the agency is responsible for establishing the basis for the classification of drugs and hazardous goods.
Folkhälsomyndigheten works in close collaboration with the 21 Swedish County Medical Offices for Communicable Disease Control, as well as other Swedish governmental agencies: National Board for Health and Welfare, National Veterinary Institute, Medical Products Agency and the Department of Medical Epidemiology, and for some research projects also with the Department of Medical Epidemiology and Biostatistics at the Karolinska Institutet. Folkhälsomyndigheten gives expert advice and support to local, regional and central authorities which have operative or political responsibilities for communicable disease control. Experts from Folkhälsomyndigheten are also frequently consulted by international organizations, like the WHO, ECDC and the European Commission, as external evaluators or for activities and/or projects concerning communicable disease control.
Training opportunities
The EPIET fellows are based in the Monitoring and Evaluation department and they will acquire experience in various epidemiological fields such as:
Surveillance activities: Folkhälsoinstitutet is responsible for surveillance of the 63 notifiable infectious diseases but also gather information on some additional non notifiable ones. Data collection for the surveillance activities is carried out through a national web-based surveillance system (SmiNet). Former EPIET fellows have been involved in routine surveillance for certain communicable diseases, setting up new surveillance systems or evaluating existing surveillance systems, as well as generating periodic surveillance reports.
Outbreak investigations: County medical officers are responsible for investigating local outbreaks. However, Folkhälsomyndigheten provides expert advice for epidemiological investigations for local outbreaks when needed, coordinates the epidemiological investigation for national or widespread outbreaks and provide laboratory expertise. Previous EPIET fellows have been involved in both regional and national outbreaks, mainly on food- and water-borne diseases.
Research Projects: Many projects are ongoing in the agency and there are always projects on relevant topics in the pipeline for the EPIET fellows. He or she will have the responsibility for all the steps in at least one research study; to plan and design, collect data, analyse, interpret and communicate findings. The colleagues of at the the Epidemiology and Evaluation department have extensive experience from previous research studies of various designs and will supervise the fellow and provide help and guidance when needed. In research studies as well as outbreak investigations, this unit has a close collaboration with the Statistics and Surveillance unit where several statisticians work that are available to provide expert advice and answer statistical questions.
The EPIET fellow can also get involved in teaching activities, such as giving lectures and facilitating case studies within training programmes hosted at Folkhälsomyndigheten or at collaborating agencies or Universities.
Seminars, workshops and forums on epidemiological or public health-related topics are organized regularly at the agency. The EPIET fellow is welcome to participate in daily update meetings on current outbreaks and threats, weekly meetings of all epidemiological queries.
The Institute has large laboratory facilities including biosafety lever 4 and has nationwide responsibilities for diagnostics concerning many infectious agents. Epidemiologists work closely with the microbiologists and there is ample opportunities for the EPIET fellow visit the laboratories to get a better understanding for different laboratory aspects of relevance for epidemiological investigations.
The EPIET fellow will be provided with a personal PC with relevant software programmes; Microsoft Office, STATA, Epidata, EpiInfo, SPSS and EndNote.
The agency is well-located geographically, on the campus of the renowned Karolinska Institute, and the university library is situated only a couple of minutes' walk away. The library provides online access to most relevant medical journals. Folkhälsomyndigheten is also situated in the near vicinity of ECDC and the canteen is a natural meeting point for the staff of both agencies as well as visitors from public health institutes around Europe.
Training supervision
Each fellow will have a specified supervisor but will also be assisted by other experienced epidemiologists, microbiologists and statisticians in the different projects where the fellow choses to participate in.
Supervision is coordinated by: Anders Wallensten, MD, PhD, Assistant State Epidemiologist, EPIET Alumnus cohort 13 (2007-2009)
Former EPIET fellows may provide further information:
Lara Payne (cohort 9, 2003-2005)
Inga Velicko (cohort 10, 2004-2006)
Luise Ledet Muller (cohort 11, 2005-2007)
Tizza Zomer (cohort 13, 2007-2009)
Margarita Riera Montes (cohort 14, 2008-2010)
Valérie Decreane (cohort 15, 2009-2011)
Alin Gherasim (cohort 16, 2010-2012)
Michael Edelstein, (EU-track C2012-2014)
Moa Rehn (MS-track, C2012-2014)
Victor Dahl (MS-track, C2013-2015)
Alessandro Pini, (EU-track C2014-2016)
Current EPIET-fellows may provide further information:
Fanny Chereau, (EU-track C2016-2018)
Emma Löf, (MS-track C2017-2019)
Language requirements
English will go a long way in Sweden. For hands-on experience in outbreak investigations, as well as to work in the national surveillance system, Swedish language knowledge is necessary (most of the non-Scandinavian EPIET fellows so far have been able to function well in Swedish after 3-5 months).
Training history
Number of EPIET fellows trained at the institute: 23 (1995, 1996 [2], 1997, 1998, 2000, 2001, 2002, 2003, 2004, 2005 [2], 2006, 2007, 2008, 2009, 2010, 2012 [2], 2013, 2014, 2016, 2017
Number of alumni at the institute: seven
Acknowledged by EPIET
Available for next EPIET cohort
Acknowledged by EUPHEM
Available for next EUPHEM cohort