European Reference Laboratory Network for TB (ERLTB-Net)
Timely and accurate laboratory diagnosis of TB is a central component of any TB control programme.
A situational analysis of TB reference laboratory services in the region, conducted in 2008, clearly demonstrated the added value of an EU-wide network of reference laboratories1. In response to this, ECDC launched the European Reference Laboratory Network for TB (ERLTB-Net, formerly ERLN-TB) in January 2010. All EU/EEA Member States and EU candidate countries have officially nominated one to two laboratories with reference functions for participation in the ERLTB-Net.
Goals
The three main goals of the network are:
to support methods harmonisation within the EU/EEA,
to develop External Quality Assurance (EQA) schemes,
to provide training activities within the Network to ensure EU-wide capacity building.
To support the Network in these areas of work, a consortium of TB laboratory experts, led by the Health Protection Agency in the United Kingdom, was awarded a grant for the first three to four years of the Network.
Activities
Within the first year of its existence the Network has completed a first version of a handbook on TB laboratory diagnostic methods. It compiles the most reliable methods and highlights the key considerations regarding biosafety and quality assurance. The document, which will be publicly available in form of an ECDC Technical Report, is aimed to be a "living" document and will be updated on a regular basis in the following years, taking new developments into account.
The situational analysis also identified a need and added value of a group of TB laboratory experts to support reference laboratories throughout the EU with technical expertise. The Network therefore launched a training programme for TB Laboratory Support Experts. During a period of two years workshops addressing issues such as laboratory diagnosis of TB, epidemiology, contact tracing as well as funding and managerial questions are held. The first cohort of Support experts began the programme in 2010 and after completion of the last workshop, will graduate in summer 2011. A second group of Support Experts will be selected in late 2011. The Laboratory Support Experts present an essential resource to Member States for support in TB laboratory questions as well as they form a valuable resource to the ECDC for support in country visits and TB laboratory-related questions.
The Network is also liaising with other EU/EEA laboratory initiatives, such as the ECDC funded "Molecular surveillance of MDR-TB in the EU" project.
Other Activities:
Implementation of an EQA system for microscopy, culture and drug-susceptibility testing of M. tuberculosis and development of EQA schemes for molecular based methods
To support ECDC with the development of EU-adapted guidance on the use of molecular methods for the rapid detection of M. tuberculosis and drug resistance  
Annual meetings with large capacity building workshops on different topics for the entire network
Compilation of a Mycobacteria strain collection for reference purposes
Promotion of twinning arrangements between Member States
Development of a web-platform containing training material and other relevant documents
Organisational structure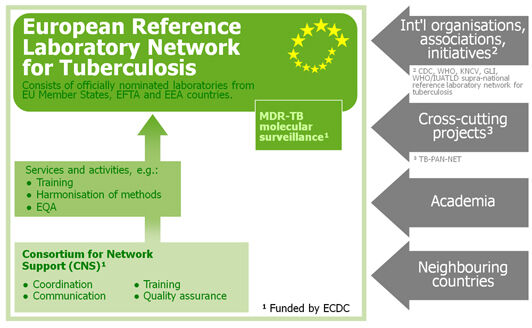 The figure outlines the organisational structures of the EU Reference Laboratory Network for TB (ERLN-TB) and the grant beneficiaries — referred to as the Consortium for Network Support (CNS) — and the interactions with key organisations, programmes and global initiatives (grey arrows). The MDR-TB project refers to work coordinated by ECDC on molecular surveillance of MDR-TB in Europe.
1. Drobniewski FA, Nikolayevskyy V, Hoffner S, Pogoryelova O, Manissero D, Ozin AJ. The added value of a European Union tuberculosis reference laboratory network – analysis of the national reference laboratory activities. Euro Surveill. 2008 Mar 18;13(12). pii: 8076