Introduction to EPIET/EUPHEM

The ECDC pellowship programme has been offered to public health specialists since 1995.
Objectives
The ECDC Fellowship Programme has the following programme objectives:
To strengthen the surveillance and control of infectious diseases and other cross-border health threats or issues of public health concern in the EU/EEA Member States and at the EU level, supporting the implementation of Decision 1082/2013/EU;
To enhance response capacities for effective field investigation and communicable disease control at national and community level to meet public health threats;
To strengthen the European network of public health professionals through use of shared standards and methods, good practices and common public health objectives;
To support cascading of training and capacity building within the Member States;
To facilitate multi-disciplinary cooperation in the above fields
Pathways
The ECDC fellowship programme is a two-year programme following a choice of pathways:
Field Epidemiology (EPIET) – training public health professionals to become specialists in intervention epidemiology.
Public Health Microbiology (EUPHEM) – training Microbiologists in public health related microbiological procedures.
The programme provides practical experience for participants which takes place at recognised training sites across the EU and European Economic Area (EEA) Member states. On completion of the programme, graduates are considered experts in applying epidemiological or microbiological methods in order to provide evidence to guide public health interventions for communicable disease prevention and control.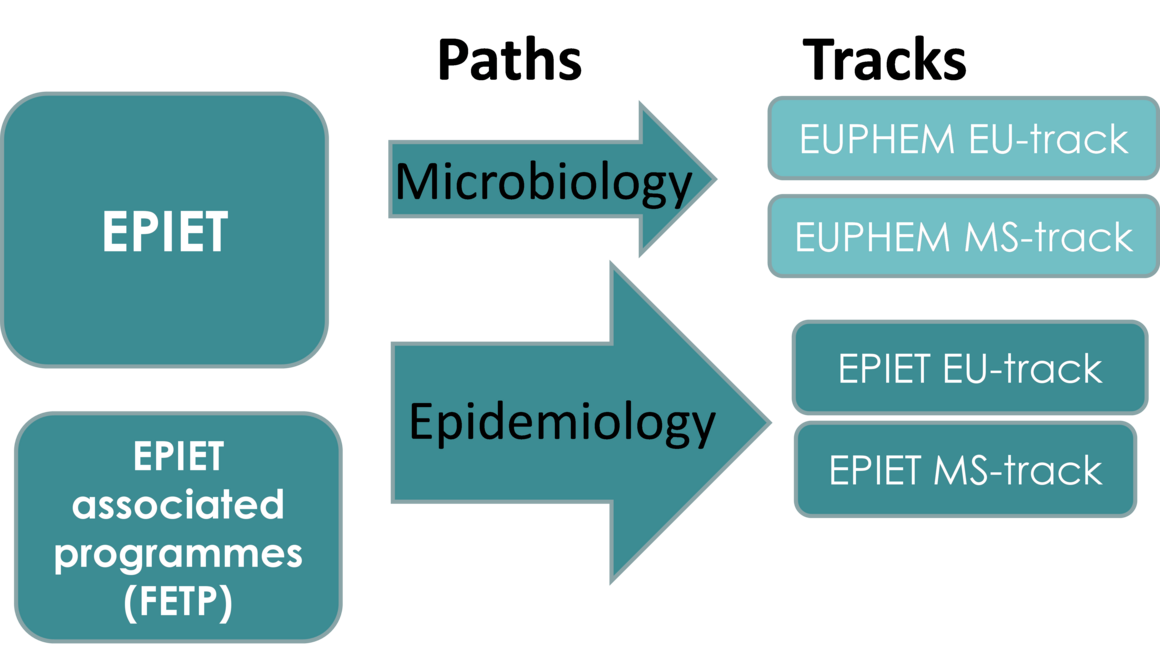 Tracks and funding
Each path in the ECDC Fellowship Programme comprises two tracks:
European Union (EU) – where applicants apply individually and are required to be a national of an EU or EEA Member state. Fellows are selected by ECDC and assigned to a Member state, other than that of their own nationality, for their training. For graduates of the EU-track, there is the opportunity for mobility, thereby strengthening field epidemiology and microbiology personnel throughout the EU. 
Member State (MS) – where Member states apply to ECDC for a Fellowship to train professionals currently in their workforce. Applicants are selected by their own Member state and remain in their own country for the course of their training. The aim is to retain qualified graduates in their source country.
Both tracks follow the same curriculum, but follow different selection procedures.
During the two-year training programme, EPIET and EUPHEM fellows need the opportunity to conduct field assignments in surveillance, outbreak investigation and operational research. Fellows will work in the following areas: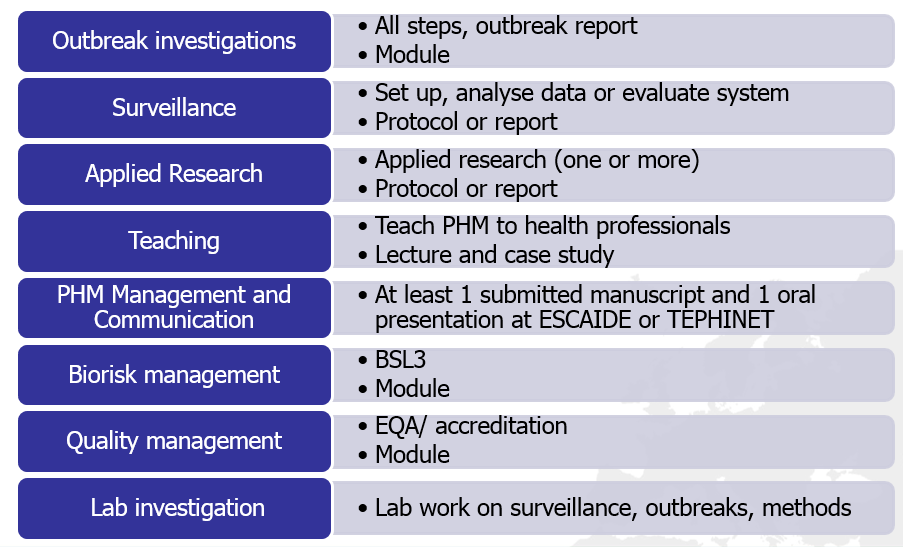 The fellowship programme is funded by ECDC and by the participating training sites in the Member States. EU-track fellows receive salaries from training sites which sign a grant agreement with ECDC during the fellowships. MS-track fellows receive the local salary from their training institutes. The participating institutes fund the salaries of supervisors and facilitators, as well as the costs for office space and national fieldwork of the fellows.
In addition ECDC funds travel costs (travel, accommodation and daily expenses) to modules for all EU- and MS-track fellows, salaries of scientific coordinators and training opportunities for supervisors.