Epidemiological update - Plague in Madagascar
Since 23 August 2017 there is an ongoing epidemic of plague in Madagascar. As of 20 October 2017 WHO has reported 1 365 cases and 106 deaths leading to an 8 % case fatality. Nine hundred and fifteen (67%) cases are pneumonic plague cases. The high proportion of pneumonic plague among cases is of concern, indicating that droplet transmission is a driver of the spread of plague in Madagascar beyond the areas that have been considered as endemic for bubonic plague to date. In the last weeks, the number of new confirmed cases seem to be plateauing, indicating that the outbreak is gradually being controlled.
To date, none of the suspected cases of plague investigated outside of Madagascar have been confirmed in relation to this outbreak.
ECDC published a rapid risk assessment on this event on 9 October 2017 and an update on 13 October 2017. The ECDC risk assessment remains valid.
ECDC has published the following technical documents on 27 October 2017:
Situation in Seychelles and Mauritius
On 10 October, the Ministry of Health of the Seychelles issued a statement about a case of plague in a returning traveller from Madagascar. The case was isolated and received antibiotic treatment. As of 17 October 2017, ten laboratory specimens have been collected from suspected cases and a probable case. All tested negative by PCR at the WHO Collaborating Centre for plague at the Institute Pasteur in Paris, France. Over 320 contact persons of the index case, including 41 passengers and seven crew from the flight, 12 close family members, and 18 staff and patients from the health centre visited by the index case, completed follow-up and monitoring on 13 October 2017. All were provided with a prophylactic course of antibiotics to prevent the disease. Overall, 1 223 contacts were registered and followed-up. All contacts that were isolated in the hospital have been discharged home, including the index case, and passive surveillance and antibiotic prophylaxis has been discontinued to all his contacts.
Another neighbouring country, Mauritius identified two suspected plague cases according to local media that tested negative.
To date, no cases outside of Madagascar related to this outbreak have been confirmed for plague.
Situation in Madagascar – epidemiological update
Madagascar, with a population of 24.9 million, is endemic for plague, and for the past decade has been the most affected country in the world, with around 400 cases of mostly bubonic plague reported annually (Figure 1). The epidemiology of plague in Madagascar shows all-year round transmission in endemic rural foci with zoonotic transmission leading to regular reports of bubonic plague cases. More historical information on plague in Madagascar is available in the risk assessment 'Rapid risk assessment: Outbreak of plague in Madagascar, 9 October 2017'.
Figure 1. Distribution of plague cases and case-fatality ratio by year of reporting, Madagascar, 2010 to 2017, as of 20 October.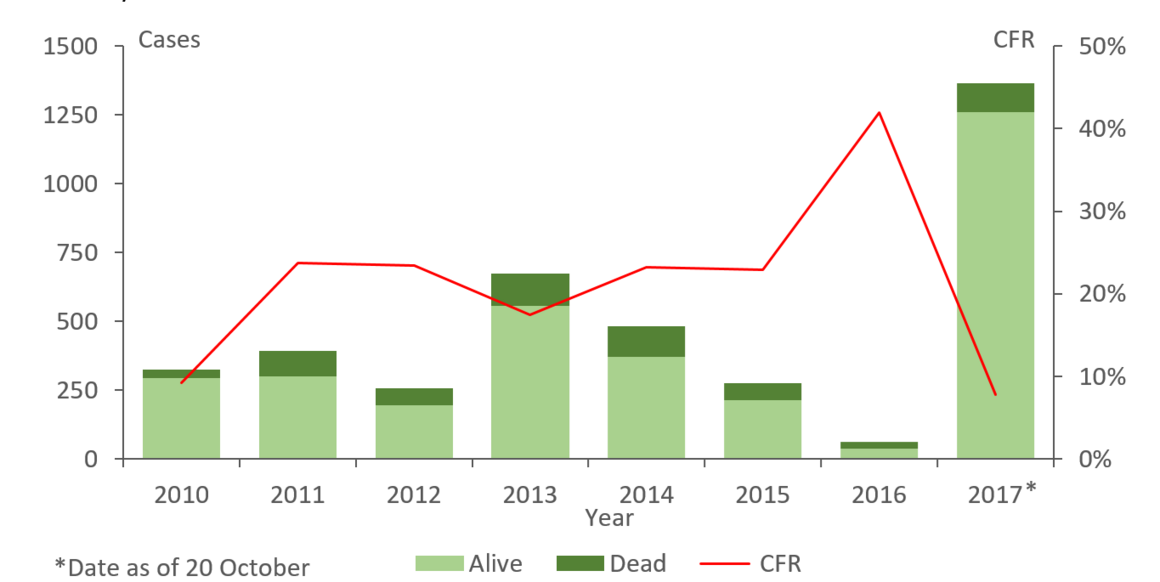 On 23 August 2017, a 31-year-old male from Toamasina developed malaria-like symptoms while visiting the Ankazobe district in the central highlands of Madagascar. On 27 August, he developed respiratory symptoms while travelling in a shared public taxi from Ankazobe district, a known plague endemic area, to Toamasina via Antananarivo. His condition worsened and he died on 27 August 2017. His body was prepared for a funeral at the nearest hospital in the Moramanga district hospital located between Antananarivo and Toamasina. He was buried in a village close to Toamasina without safety procedures. Subsequently, 31 people who had been in contact with this case fell ill and four of them died.
The outbreak was detected on 11 September following the death of a 47-year-old woman from Antananarivo who was admitted to a hospital with respiratory failure caused by pneumonic plague. The public health authorities immediately launched comprehensive field investigations.
On 29 September 2017, the Malagasy health authorities confirmed a fatal case of pneumonic plague in a basketball coach from the Seychelles. The case died in a hospital in Madagascar on Wednesday 27 September while in the country for the Indian Ocean Club basketball championship scheduled for 23 September to 1 October 2017. The Madagascar Ministry of Health and the Ministry of Foreign Affairs have informed the government of Seychelles and authorities of other countries participating in the championship including Comoros, Mauritius and Seychelles. Remaining sporting events in the championship took place as closed-door matches in accordance with a Madagascar Ministry of Health recommendation. National or international contacts of the case were traced and investigated in the preceding days. Exposed contacts received chemoprophylaxis as a precautionary measure and  follow-up has been implemented for those considered as having higher-risk exposures. In addition, a basketball player from South Africa was treated for plague in Madagascar after contracting the illness during the championships.
Between 1 August and 20 October 2017, WHO has reported 1 365 plague cases, including 106 deaths (CFR=8%). Pneumonic plague accounts for 915 cases, bubonic plague for 275 cases, septicaemic plague for one case and 174 cases were unspecified. Among plague cases, 219 cases are confirmed, 520 are probable and 626 have been classified as suspected cases (see Figure 2). Regarding the 915 pneumonic plague cases, 160 have been confirmed, 375 are probable and 380 have been classified as suspected cases. Due to the ongoing reclassification process in Madagascar the distribution of number of cases may vary in the following updates.  
Figure 2. Distribution of plague cases per reporting week, Madagascar, weeks 2017-38 to 2017-42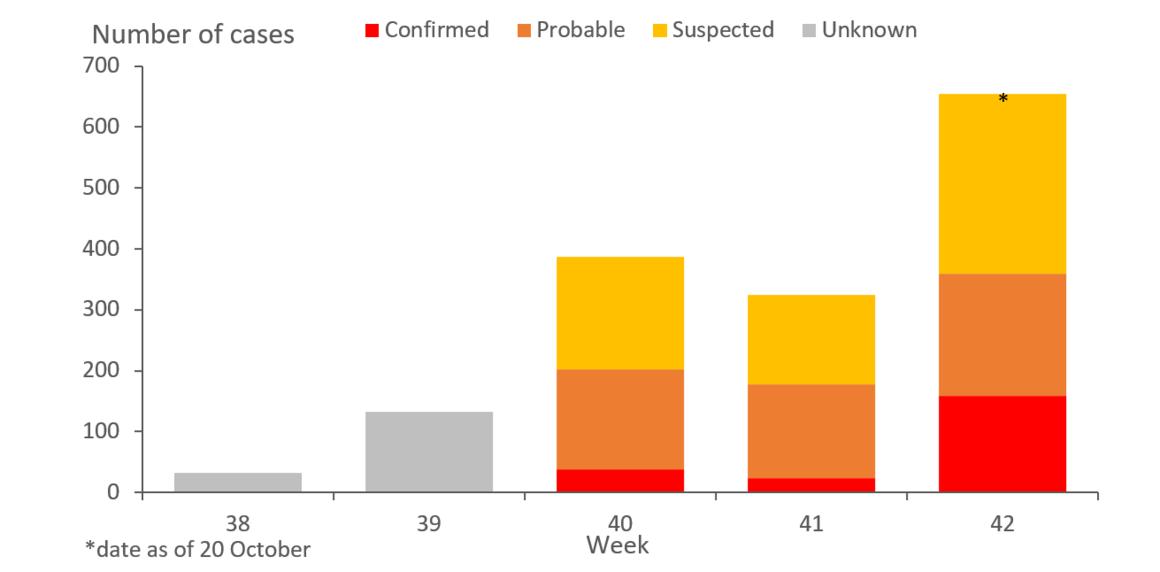 At least 54 healthcare workers have contracted plague since the beginning of the outbreak. The district of Antananarivo Renivohitra, where the capital city of Antananarivo is located, is the most affected, accounting for 41% of all reported cases. The current pulmonary plague outbreak has affected major urban centres including the capital Antananarivo (three million inhabitants) and the port city of Toamasina (around 275 000 inhabitants) on the east coast. In addition, sporadic cases of pneumonic plague without apparent epidemiological links with the initial cluster of cases have been reported in several regions across the country. Overall, 40 out of 114 districts in 14 of 22 regions in the country have been affected by pulmonary plague (see distribution of plague cases in the latest WHO epidemiological report).
Local authorities and international partners are concerned that the outbreak may spread further as it is already present in several cities and the plague epidemic season usually runs from September to April.
Several public health actions have been implemented since the outbreak was notified to WHO on 13 September 2017. Under the leadership of the Minister of Public Health, a multisectoral national response coordination committee for the response to the plague outbreak was set up. WHO is providing technical and operational support to the Minister of Public Health in in coordination with national and international partners involved in infection prevention and control of the plague epidemic.
Nine plague treatment centres have been established in Madagascar, of which six are in the capital city of Antananarivo. Field investigations of cases, contact tracing and monitoring of contacts are ongoing. In addition, awareness-raising campaigns about the spread of disease and prevention measures have been implemented in the community. The Minister of Public Health and WHO have implemented exit screening of departing passengers at the Antananarivo International Airport. Sanitary control measures have been implemented at the entry and exit from cities affected. Regarding international health regulation (IHR) travel measures, WHO advises against any restriction on travel to or trade with Madagascar based on the available information.